In Tim Wu's excellent book, "The Attention Merchants," Wu paints a grim history of advertising attempting to get attention, especially as technology enters the picture. He is undecided as to whether digital ads are a 99-cent store, a cesspool, or both:
"Over the long term [digital ads] would become something of a 99-cent store, if not an outright cesspool," Wu explains.
Like it or not, "attention" is the engine of the new economy. Every metric that we value, individually or professional, is linked to attention: likes, follows, subscribers, fans, views, clicks, downloads, conversions, sign-ups are all simple units of attention.
Take the fundamental unit of display advertising: the retargeting ad. Retargeting ads are the ads that follow you around the Internet after you've visited a product. These ads are doing one thing: keeping your attention. It works. That's why advertisers spent around $60 billion in programmatic advertising last year.
The 99-cent store-slash-cesspool perception is usually concerned about quality, rather than advertising itself. As a business, getting attention is great. But getting desperate for attention is not so great. No one is nostalgic for the days of pop-ads.
The attention economy has evolved as advertising has gotten more sophisticated and the channels and mediums of online content have changed.
The attention economy is the foundation of the tech economy. The real question is where, how, and why people pay attention.
The Attention Landscape
Consumers spend an average of 15 seconds or less on a website. And that statistic is from 2014, when people had longer attention spans. A 2017 study from Taboola showed that readers actually spend less than two minutes on the average publisher website.
Like many things, you can safely blame this on social media. One in five US adults get their news through social media. Social media users tend to bounce at a far higher rate than average website visitors, which probably contributes to the low time spent on publisher websites. Users see an article on Facebook or Twitter, click it, skim it, and bounce.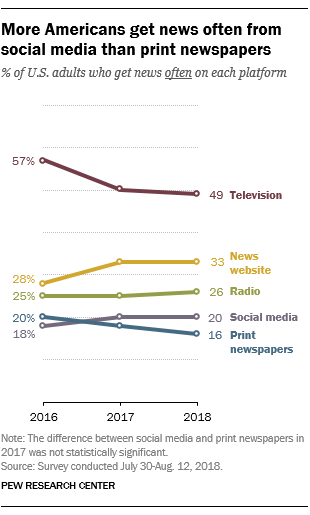 Attention has transferred to the social channels themselves.
Research shows that users spend two hours and twenty-four minutes, on average, on social media. Here's the breakdown:
Facebook: 58 minutes
YouTube: 40 minutes
Instagram: 53 minutes
WhatsApp: 28 minutes
Twitter: 1 minute
Snapchat: 49 minutes
LinkedIn: <1 minute
Pinterest: 14 minutes
Given these numbers, it's safe to assume people spend more time on social media than news websites. That's why global spend on social media advertising was estimated to be $84 billion in 2019.
Ad budgets follow the attention. Social media is a big winner.
But how about mobile?
Research shows that the average American spends 5.4 hours on their phones… every day. A study from Provision Living, which surveyed 2,000 people, took away some interesting statistics when phone data was analyzed across millennial users and boomer users:
Most of the time spent on phone screens is, in fact, spent on social media or, at least, the internet. No surprise there. We spend more than six hours every day connected to the internet and half of that time is spent on mobile devices.
The Internet seems to be the clear winner of the attention economy.
But, given the frantic searching and scrolling and liking and stalking that seems to happen, there is no real foundation of Attention where you can guarantee people will be focused and present, 100% of the time.
Or maybe… there is.
Did the Internet Kill the TV Star?
Ad spend on TV commercials is still higher than other ad channels. In the US, ad spend on broadcast TV (excluding digital) was estimated at $70 billion in 2019.
When we think about the attention economy itself, TV advertising is separate from what people may usually think of the 99-cent ad experience. In one survey of 1,000 US respondents, 58% said they preferred TV advertising to all other forms of ads.
Fundamentally, though, in the world of screens today, what is different about a TV ad?
Well, it's video content. TV ads are usually run by a big brand with a big budget, so the quality of the ads is higher.
There is something else: when people watch TV, they're not as likely to "bounce" from the show. Their attention is focused on the media, not constantly straying back to a social site or another article.
But there is a clear shift happening in what we think of as "TV ads."
First off, generations are diverging in linear TV consumption. Last year, Nielsen released a report that showed that, while the average time spent watching TV each day was 4 hours and 30 minutes, that number is less than two hours for younger age groups (18-34) and more than seven hours for seniors.
The disruption in linear TV consumption has recently started to accelerate. One study showed that, compared to 2018, Thanksgiving Day 2019 views dropped by 41%. Black Friday and Saturday dropped by a third. On Sunday, viewership dropped by 65% when compared to 2018.
In the attention economy, linear TV is losing the most valuable thing: audience.
The State of Streaming
It's been a long journey for companies that are now seen as the leaders in the streaming space. Netflix was founded in 1997 with a dream to offer unlimited DVD rentals for $20 a month. It took another 10 years for the company to launch the iconic streaming service. By 2013, Netflix had started building successful shows of its own, the first being "House of Cards."
Today, Netflix has 182 million subscribers.
In the world of smart TVs today, a study from the Harris Poll found that 52% of consumers report using at least one OTT service. The average user streams for 2+ hours a day using three different services across 3 different devices.
Almost a third of users say that screen size doesn't matter. Millennials actually watch more streaming content on their mobile devices than on their TVs.
Let's go back to that $70 billion in TV ad spending.
The research found that less than 5% of that budget went to OTT spending, yet the survey showed that two-thirds of OTT users learned about a new product from an OTT ad and 40% actually paused their content to learn more about the product after seeing an ad.
These patterns have gotten even more pronounced this year as consumers have had to adapt to lockdowns. A study from OnePoll found that streaming users now spend eight hours streaming content each day across four different streaming services.
When we take all of this into account, it's clear that there is a new winner of the attention economy when we consider how consumers spend their time: streaming.
The Age of Data-Driven TV Ads
TV ads are still, by far, the favorite form of advertising among consumers. And, as we move into the age of truly connected, digital television, those ads can become better than ever.
A linear TV ad is based on the audience that advertisers think is watching that particular show. A connected TV ad is based on the actual data about who watches that show and how they react to advertisements. . With data that can show exactly when consumers skip or pause an ad, advertisers can go back to the drawing board and optimize that ad experience.
The most exciting part about data-driven TV advertising is building a true customer journey, in real-time. Let's think about the research from the Harris Poll: if 40% of consumers pause the content to look into the product, that gives brands an opportunity to connect in a very meaningful way with people who have just seen an ad.
Rather than relying on linear TV ads that drive people to action hours or days later, CTV ads become part of the journey immediately. And advertisers can see whether viewers take that journey or not.
In the attention economy, the real secret to maintaining attention is not flashy ads or discounts – it's building a relationship by providing your audience with the personalized advertising experience that becomes as integral to the viewing experience as the content itself.
At a time when attention is as scarce as ever, streaming has become a place where consumers can truly focus. It's up to advertisers to keep it that way by building engaging, unique, and, ultimately, watchable ads.